"If it is not fun, it is not a car," Akio Toyoda said when he took office of the traditional Toyota brand. Surely, Mr. Toyoda drove his Toyota Supra and instilled himself in it, because hardly any other Toyota model has generated so much emotion and fun for generations, but at the same time so much controversy as well.
With the fourth generation, the Supra MK4 (already famous by its indestructible engine) entered into the cinema screens and not only popularized it worldwide, but also elevated its main protagonist, the legendary Paul Walker.
A large fanbase quickly formed with owners scattered all over the world, including Germany where our large Supra community formed almost 20 years ago.
Passion that connects
Owners of dream vehicles often say it provokes fond memories of all the precious times of their childhood. Whether it was just one ride or a dream car parked on the side of the road. Sometimes its because they they remember it as the hero car from their favorite film, with a DeLorean, a Ford Mustang or the Toyota Supra.
We are connected by more than the rivets between the sheet metal, because we often put more money into our hobby than it makes any economical sense. We play and fix our vehicles with a lot of sweat and blood until dawn. Occasionally it becomes a love hate relationship, but in the end, we do it for of the love, dedication, and pride. And because with each accomplishment, it rewards us with a journey that gives us an incomparable feeling of freedom on the road.
It's the same form of passion as some who love to sing, those who root for their football club or those that are adept at art or photography.
Our generational photo shoot
On a bad weathered day in December, we organized a long-awaited generational photo shoot with all Supra models as a community. With all the Supra models, the perfect photo would reflect the motto of the community - passion that connects.
We received enthusiastic support from Toyota who made the entire Toyota Collection Hall available to us privately.
Together with four photographers, members of our community and three models made available by Toyota, the photographers were able to freely hone in their creativity undisturbed by others.
Max, Jan, Andy and Luca are passionate photographers with an unmatched aspiration for beautiful, fast and rare cars. So they know the beauty, and artistry of a vehicle perfectly in front of the lens.
The right camera setting, the right light, but above all the perfectly trained eye, will let a vehicle show its most beautiful side.
With the pursuit of that perfect picture, the courage to implement new ideas, or the relentless effort for an even more perfect picture, the photographers combined their passion together into a new level.
The crazy 2000 GT driver
Luc is a very personable and down-to-earth owner of a rare and equally expensive family owned lefthand drive Toyota 2000 GT. You wouldn't even think how rare and expensive his vehicle is at.
Luc was supposed to join our film shoot with Toyota Global with his vehicle over two years ago, but it didnt work out due to some technical problems. When we were inviting people to our generation photo shoot in Cologne, however, Luc asked without any questions.
During the event planning and the overnight stay, there was the question of whether Luc's 2000 GT (including its trailer) should be safely housed in the secondary hall of Toyota. This caused a bit of commotion with the folks from Toyota.
Luc wanted to drive the entire route to Cologne (all 600km) with his rare and expensive Toyota 2000 GT.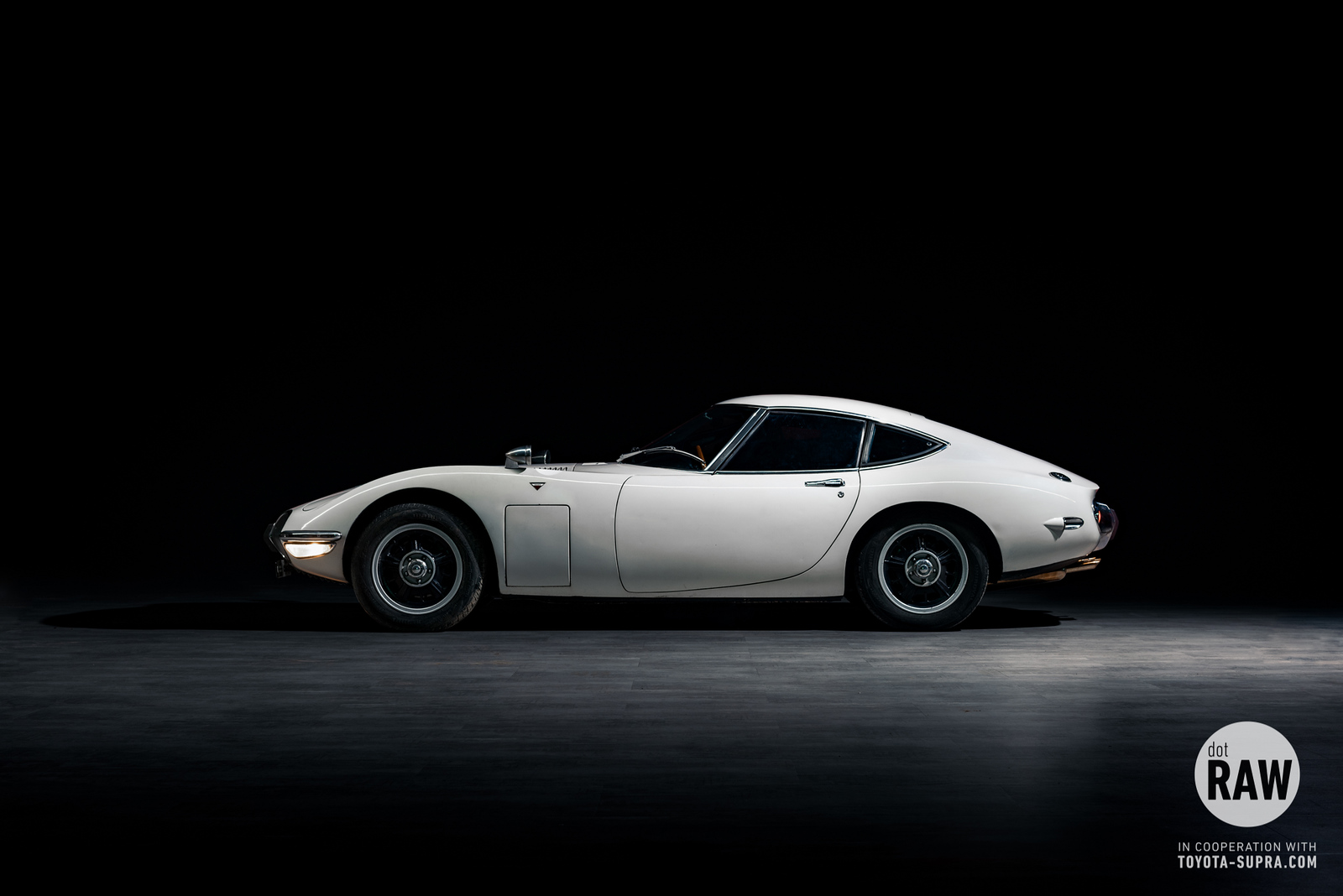 For most of us, the 2000 GT remains an unreachable dream car that you would rarely even see on a public road, let alone drive one yourself.
Just the thought of what could happen on the highway makes you gasp for breath. Because you are fully aware of the rarity value of the vehicle, you worry less about your skills as a driver, but rather the other unpredictable drivers on the road with you. And with 1200 km there and back, it's certainly not a short road trip.
Luc is a little more relaxed about this even as a passionate owner. He loves his car with all his heart and soul. He maintains it with regular maintenance intervals, but also likes to drive it. So on the way to Cologne, Luc did not miss the chance and fun of exceeding his personal top speed on the highway at almost 200 km / h. In Germany, luckily you can do this legally, even with a 2000 GT.
At such a speed, the windshield wipers wobble a lot, but that is a little thing considering the age of the car .... This is typical Toyota quality.
Luc has always wanted to visit the Toyota Collection Hall and did not miss the opportunity to take a look at the vehicles in our private event with a small group of people. With curiosity and fascination, he examined all the vehicles that had been photographed, even passing at the chance to take a short nap in one of the large Toyota Crowns.
On the way back to Bern, a defective oil pressure indicator made the long journey somewhat unsettling, because the rare engine could seize if it were really true. Luc and his companion arrived safely in the 2000 GT and enjoyed an exciting weekend.
Taking part in something bigger
No matter how big the technical differences between each successive Supra models, we often share the same goal in our passion. This is especially true when looking for rare Supra parts, everyone has the same feelings.
As an active, large and modern community with direct contacts to Toyota, we are regularly supported in our work and have been able to participate in many exciting events and projects in the past.
Whether it was the filming of our community with Toyota Global from Japan or the invitation to the exclusive opening of Toyota Collection or being able to test drive of a camouflaged preproduction Supra A90 with Toyota Europe and Fredric Aasbø, or take part of the Supra-Experience weekend at the 24-hour race with Toyota Germany. To name a few examples.
This requires a certain public presence, which should also be an invitation for many new members. Whatsapp groups may of course have their lightness, but they remain hidden and therefore probably uninteresting for Toyota.
With our pages www.toyota-supra.com and www.toyota-supra.de, we not only have clear branding for the international arena, but in contrast to Facebook, we have the possibility with our know-how to create our own features especially for the real Supra owners. With www.supra.parts, we are currently developing a worldwide marketplace for private as well as dealer sales.
So, come take part in our modern community to share and support all owners. Because in the end we all have the same passion and drive regardless of the generation.
thanksgiving
We would like to thank Toyota Deutschland, Toyota Collection and the responsible employees who gave both us and the photographers the opportunity and the freedom for such a great project.
A big compliment and thanks go to the four photographers, who also invested a lot of time, interest and patience in their free time. In addition to the day in Cologne itself, also in the extensive and complex post-processing of the photos.
We will certainly repeat such a great project that the knowledgeable Supra connoisseur will have recognized that the Supra MK1 from the Toyota Collection is a Celica. Certainly there is a "real" owner of an MK1, even in cold and rainy December days.
Supports them with a like and follow