For years, forum operators (not just auto-forums) have been lamenting a decline in visitor numbers, especially when it comes to fringe group issues.
The culprit is rightly called: Facebook, Whatsapp and co. It has never been easier to create fan pages or groups or find like-minded people. The operation is of course ingeniously ingenious and a simple like expressed interest in a topic or a simple picture
The advantages also have some disadvantages: There are now countless groups and fanpages, communities and WhatsApp groups. Information must be painstakingly sought out, people are asked or recommendations are trusted. Often also one-sided opinions and supra-drivers from the north will hardly be in Whatsapp groups from the south. There are many examples of how interests and groups are increasingly moving away from a model whose replacement parts are becoming increasingly difficult to obtain. Arguments that every community operator brings to the fore.
Use common strengths and networks
It is therefore good to position yourself, to use synergies and to be agile in the development. Starting with the technology, the interfaces and plug-ins, as well as sharing the server resources. It continues with search engine optimization and cross-linking, right up to corporate identity topics, such as a common recognition feature and creating a common branding. So shared social networks are also used and created, but which should reach the appropriate audience for the appropriate model audience. Whether the Supra MK4, the 2000GT or the Celica T23. The gathering point for collected information will always be the communities
Communing soon: Part supplier for our communities
Currently, we negotiate a discount advantage for our communities with OEM parts with a large parts supplier and then take care of the technical implementation for the pages. In the future, you will have another option via our part search engines to get parts which may be hard to get.
We publish a separate article
Supra community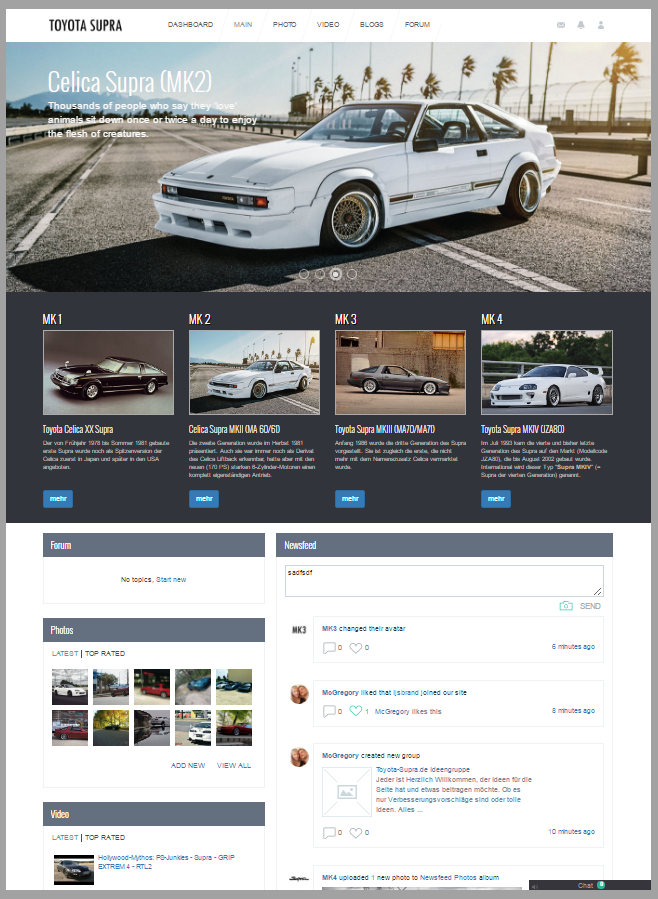 At the beginning of the year MKIV became the "Toyota Supra" site. This had many reasons, which are not only associated with the soon to be new Supra. With a single model-type designation such a site could never become a mass phenomenon, despite the cult, which has already made itself felt in the last 2 years of slowly decreasing visitor numbers. It had to come up with new ideas. A page with many interaction possibilities and the possibility for more topics.


For the community, it was a big leap in usability, but user logins were never as up to date as they currently are, even at that time. This has become possible through better search engine positioning. The contents are more personalized and are not limited to forum posts. These have been taken up in numerous thematic areas over the years anyway.
Celica community
Similar trend went through the Celica community. There were no developments or aspirations.
Here, too, a redesign is currently being worked on to create a first good basis, such as a responsive design. The long-term focus is realized by switching from vBulletin to XenForo. A successful first migration has already been made.
So all knowledge contributions should be better separated and receive a kind of blog character.
JDM Community, Datsun Community, Torque Junkies, Toyota Classics & Car fanatic
New in our circle, we may soon welcome the Datsun community. What was previously limited to Facebook and Whatsapp group (s) soon required more. In cooperation with our users, a large global wiki database and contact point for owners and fans is currently being developed.
Car fanatic was and is a pilot project to test the social media software and continues to serve as a test object in treading new paths.
The JDM community has found a few interested parties who would like to realize such a site and receive our full support. Above all, teams should be in the focus here and the existing interfaces can make better use of networks from other sites.
Like Toyota-Classics, both sides should see themselves more as portal or blog pages with interesting contributions. The design for both sides is currently under development.
Stay tuned and look forward to seeing what the next quarterly report will do
And what does it cost?
Nothing at all!
Of course, communities have running costs, whether it's domain or server. Many of these costs were often paid out of pocket or through donations.
Due to our good networking and good knowledge in the search engine optimization, our pages are very popular with advertising partners. With a simple link we kill two birds with one stone, without creating any conflicts of interest. The partner strengthens SEO Technically with the linking in the search engines and we cover all our costs. Or did you notice the small link on the start page?
In any case, the user is largely responsible for the content of a community and not the operator.
So, save yourself the money for an Amazon Prime Account, a meal with your partner or other;)